FCMN 2022 Health & Safety Plan
To promote the safety of everyone attending FCMN 2022, we will monitor the guidance and requirements of the Centers for Disease Control (CDC), State of California, the California Department of Public Health, and the World Health Organization (WHO) regarding COVID-19 safety practices. Therefore, this Attendee Safety Plan may change from time to time through the last day of FCMN in June 2022.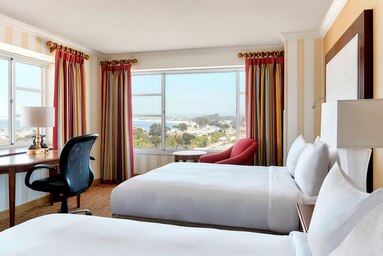 Monterey Marriott
350 Calle Principal
Monterey, California 93940 USA
Discover the Peninsula from Monterey Marriott. Situated along the waterfront overlooking Monterey Bay, our inviting hotel offers a premier blend of location and services designed to make your stay special. Unwind in peaceful rooms with floor-to-ceiling windows offering views of the Bay or downtown. Savor fresh, locally-sourced cuisine at our restaurant, relax by our outdoor pool or visit our 24-hour gym.
Weather: The weather in Monterey is mild, with an average summer temperatures of 65-70F for the high and 50F for the low. Plan to dress in layers and always have a light sweater or jacket for the foggy mornings and evenings.
Due to increasing delays in securing visas to the U.S., it is strongly encouraged that you begin this process immediately to ensure approval. Please refer to the following website for additional information and assistance: www.national-academies.org/visas.
Participants are eligible for the Conference room rates starting at $274 (single or double per room per night plus prevailing taxes) at the Monterey Marriott Hotel, 350 Calle Principal, Monterey, California 93940.
A small number of government rate rooms are also available at the government per diem.
Keep in mind that reserving a room in the conference hotel block is important because it helps FCMN meet its financial commitments to the host city and retain lower registration fees as well as a high quality conference with the features and services you are accustomed too.
Special room rates will be available until May 27, 2022 or until the group block is sold-out, whichever comes first. Due to limited space we recommend booking as early as possible to receive this special rate—please note that once the reserved/contracted room block is full, the room availability and rate are not guaranteed and may vary.
You may also call the Monterey Marriott and mention you are with "FCMN June 2022 Conference" to make a discounted group or government rate room reservation.
Reservations Toll-Free: 1-877-901-6632
Reservations Local Phone: 1-877-901-6632
All reservations will require a valid major credit card.
Cancellation Policy: 72 hours prior to arrival on or before 4 p.m. to avoid cancellation fee.
Getting to the Monterey Peninsula from outside California couldn't be easier. Fly directly into Monterey's Airport located just 10 minutes from the hotel. Airlines servicing the Monterey Peninsula Airport include Alaska, American, Allegiant, and United. Other travel options include flying into San Jose International Airport, a 70 mile drive or San Francisco International Airport, a 100 mile drive down the picturesque California coast.